For a description of steps 1 - 9 see my previous entries.
Step 10:
To complete the top right hand side of the parlor I built the values of burnt sienna, magenta, and blue in the same manner as the previous step. Again, I added additional lines to suggest the brick pattern and lifted some color to suggest grout.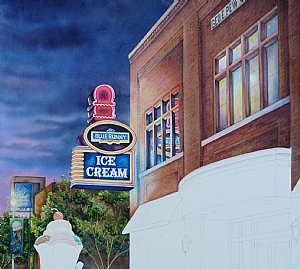 Step 11:
Moving down to the bottom half of the parlor and street, my first goal was to save the light. I masked the tables, chairs, and people to save their whites and then applied light washes of yellow where light flooded from windows, doors, and lamps. I also applied light bright washes of color on the awning under the neon sign (yellow, blue and pink). I began layering light values of color on the children and statue.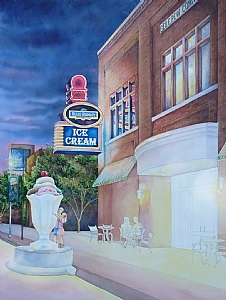 Step 12:
I continued strengthening the values on the bottom portion of the parlor, street, statue and children. I applied layers of yellow, blue, and magenta to the glass doors. Time to suggest a bit more brick detail on the lower parlor portion in the same manner already used. I used a toothbrush to spatter dark blue on the lower left section of street, creating a bit of texture. Pleased with the values achieved, I lifted the masking fluid.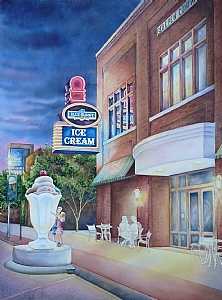 Step 13:
Finally, I painted the tables, chairs, and people being sure to save plenty of flooded light. For my last step I sprayed a light layer of blue across the bottom portion of the painting. This redirects the strongest light into the painting and adds a bit more depth.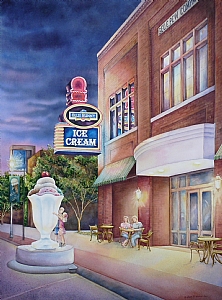 As always, I thank you for the opportunity to share the development of this painting! ~Jean